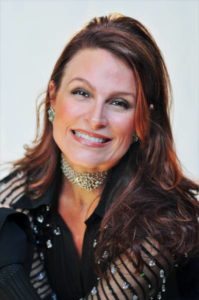 I was hoping before this final Blog, we could have communicated that we had attained Medicare coverage, thus all commercial insurers would also be supporting reimbursement for shower coverings for breast cancer patients. Unfortunately, we can't announce that outcome, but are extremely appreciative with the recent filing of the 'Post Mastectomy Infection Reduction Act' legislation to push Medicare to reimburse for shower coverings.
After regurgitating the past five years of my life through this Blog, I'm happy to say I've not only hit my five year mark as a breast cancer survivor, but The SHOWER SHIRT Co. has hit its three year mark as the only water-resistant mastectomy garment on the US market; a fantastic milestone personally and a success story professionally.
I was asked a few days ago if "The SHOWER SHIRT Co. was rocking and rolling yet?" I had to think about that question for a second. I answered simply, "It's rocking."
We've obviously made huge progress in keeping women out of trash bags while showering after breast amputation. We've sold thousands of Shower Shirts not only in this country but other countries. We have Walmart.com, multiple e-commerce healthcare groups, mastectomy boutiques and hospital systems as continued buyers. We have solid patent protection for not only our product, but 'method of use.' Though not until we've attained Medicare coverage will I feel comfortable saying, "We are rocking and rolling."
With maturity comes wisdom, with increased wisdom, hopefully, one attains increased knowledge. Subsequently, the more knowledge you have, the more wisdom and power you have to make wiser decisions. However, there are certain times in life when every bit of wisdom, knowledge and power you thought you had suddenly disappears.
My most profound education in life didn't start until I chose to dive into both personal and financial liability to help others through creating The SHOWER SHIRT Co. and designing a product to help breast cancer surgery patients. I do miss my life before breast cancer and the Shower Shirt, but wouldn't change my world at this time for anything. I now live a more meaningful, reflective, disciplined life.
My husband has said to me on a many occasions, "Lisa, you have a lot of courage to do what you have done. Not everyone has that type of courage." Though he drives me crazy on most occasions, he's the biggest blessing I've ever been given, and by far, my most valuable asset.
I have fortunately gained relationships I would not have known without breast cancer and the Shower Shirt. At the same time, I've also evolved out of a handful of personal and professional relationships. When our primary focus on life evolves, unfortunately, sometimes our relationships do as well.
I still miss my mom immensely, but have come to terms with the fact I'll never accept her tragic death, but through much praying and discussions with my higher power, I've learned to better manage the emotions of that loss, and absolutely believe we'll be together again in another place and time.
In closing, it's important to remember there is no success in the world until you've helped vulnerable people going through an extremely vulnerable process. The photo below depicts a picture perfect example of what I've tried to do over the past several years; to help other breast cancer patients, while going through this vulnerable process (Photo: Courtesy of my BFF, Raelyn Barlow).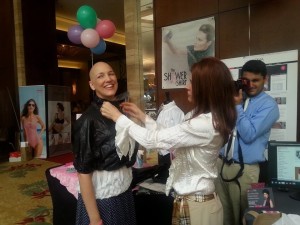 "Success is not Given; it's Earned with Blood, Sweat, and the Occasional Tear."
To read all excerpts from 'The Year of Blogging,' go to www.theshowershirt.com/blog/.
Blessings to each and every one of you,
Lisa F. Crites
Shower Shirt Principal/Inventor
Corporate Healthcare Consultant
Health/Medical Broadcast Journalist