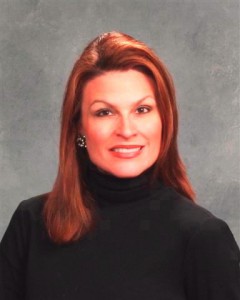 The drama was finally over (or so I thought) in terms of unexpected surprises relating to my breast cancer diagnosis, infections and pathology reports. I wanted to get back to my life, my work, and my relationship. I was gravely needing some hint of normalcy (whatever normal is for a Crites).
I still was exhausted from the infection so I maintained my two, four hour, naps per day. During the limited hours in which I was vertical each day, I began focusing on the creation of s water-resistant garment for showering purposes. I had an extremely basic idea for the design, and knew I wanted to create a quality product with a type of water-resistant parachute material. I also knew the chest area had to be created with sensitivity to the drain regions, but otherwise, I had not thought through the overall creative work of the design.
I was at dinner one evening and began drawing a bolero-style jacket on my napkin. I included all of the bells and whistles needed on the inside of the garment to both protect the post-surgical drains from becoming wet, while also hosting the weight of the drains. I knew women varied in all shapes and sizes so I was going to need to create an elastic perimeter. It was also a given that the most important feature of the product was the neck region; if the neck wasn't covered appropriately and completely "over-engineered," as my significant other infers, the product could fail.
Since this was not the first time I had started a project in which I didn't know what I was doing, I totally relied on blind faith.  Of course blind faith, and my calming head-voice who I could still hear saying, "Create a water-resistant product for surgery patients, create a water-resistant product for surgery patients."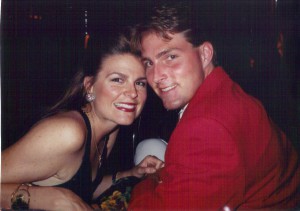 My Younger Brother, Charles & I
After completing my quite awkward looking bolero jacket drawing, I sent it to my younger brother, Charles.  He called me and said, "What the hell am I supposed to do with this?" I requested he transform my drawing into some type of a shower jacket. He's somewhat of an architect; though he says he's an engineer. But since he draws and designs buildings, I felt highly confident he could draw and design a garment for showering.
After a bit of complaining from him, and conversations back and forth, he created the drawing below. Tears came to my eyes up when I saw it; he did a fantastic job on the execution I wanted in terms of the design. Though the version I have included below is only a portion of the final architectural schematic, it gives the overall basics, and a fantastic image of what I needed for prototyping purposes. I was excited my idea was now on paper. Though I had to ask myself what Charles had previous asked me, "What the hell am I supposed to do with this?"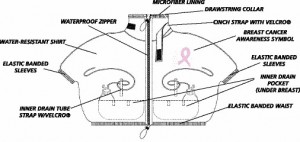 Stay Tuned,
Lisa F. Crites
Shower Shirt Principal/Inventor
Corporate Healthcare Consultant
Health/Medical Broadcast Journalist